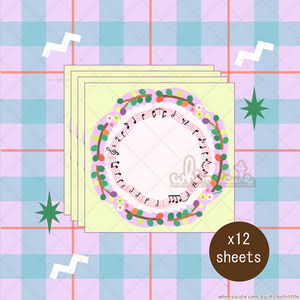 ♥ Loose notes for memos, short messages, or journal pagelets. 12 sheets per bundle. (pls note: they are not stickers!)

*** actual notes are circular in shape instead of square that is shown in the photo.
♥ Approx. size of notes: around 3.5 x 3.5 inches

♥ Handmade stationery. Designed and produced lovingly at home with an inkjet printer and Silhouette cutter. Packed manually. ♥

♥ Printed on quality inkjet paper. Print is not waterproof. Perfect for journals and other paper-related projects not directly exposed to open air. Not advisable to be used on surfaces that are prone to moisture.